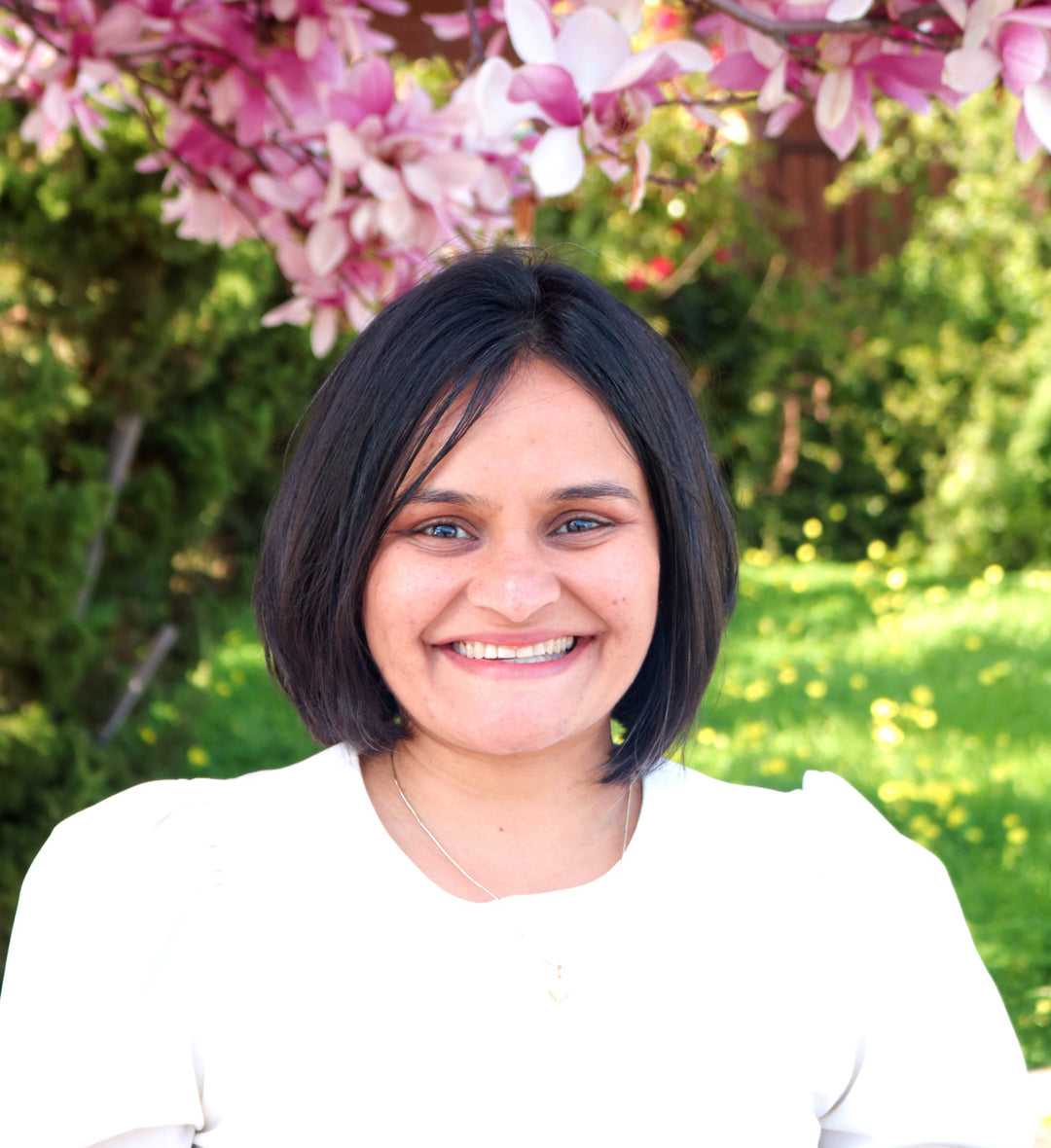 Meet your guide
Vaidya-Scientist Nami
Vaidya Nami, a BAMS, MD(Ayu), VSF, is one of the most extensively India-trained Ayurveda clinicians (vaidyas) in the US, having practiced for nearly two decades. She is trained in Ayurveda and modern medicine in which she draws from both to offer sustainable health transformations.
Widely published, she teaches at top Ayurveda schools in the U.S. and is a celebrated speaker, as well as a consultant for creating lateral health systems, specializing in chronic disease management.
Empathetic, she shares her insights with ease, wit and compassion.
Personally, she enjoys being a mom, respects simplicity with due thought to details, loves being in nature, practicing yoga, exploring new cuisines and dreaming of creating a safe, kind world for all.
Read more about Vaidya-Scientist Nami's background and journey, including the evolution of her clinical integrative approach and future vision of health.
LinkedIn profile
Professional affiliations




Journey to Ayurveda
I came to discover the power of Ayurveda, when done right, in 1995, as a 12 year old child who had suffered from years of fairly severe chronic childhood bronchial asthma. I lived in the bustling city of Mumbai, where natural healing options were not commonplace find then. Many years later, with the guidance of an ace Ayurvedic healer, Dr.Amee Parikh, BAMS, MD (Ayu) trained in Ayurveda and medicine, my parents helped me find a good night's rest, even in the most unfriendly weather. I could safely taper my corticosteroid intake and stop relying on it all together. With Dr. Amee's support, I learnt first hand how my diet and choices influenced on my health. I began to notice impact of different herbs on different aspects of my well-being.
I often wondered why was I not recommended safe herbs and Ayurvedic healing by the plethora of doctors I had met for nearly a decade before? Soon, the time came to choose a career path at age 18. I passed the highly competitive exams to have the option of becoming a western medical doctor trained at one of the top medical schools of Mumbai. However, I was intrigued enough by Ayurveda and lovingly invited by the vaidya who healed me, to study Ayurveda formally. It was an unconventional and bold choice to make then as
modern medicine career was more alluring and predictable. Emboldened by our family's spiritual guide, Sai Makrand Dave, I dived into the world of Ayurveda. By now, I had felt an inner calling to contribute in making Ayurveda contemporary and accessible to those who suffered.
Formal Education & Integrative Training
I was since then formally educated in Ayurveda and modern medicine for eleven years in India. First five were at R.A.Podar Ayurvedic Medical College & Hospital to get my BAMS degree -(akin to basic medical degree of MD in the US). I would spend my free time and summer breaks immersed in the overflowing clinic of my mentor Dr.Amee, other vaidyas, healers and forests of India.
The next three years were a post graduate training in MD (Ayu- Kayachikitsa) --- akin to a specialization in Internal medicine --- which laid the foundation of my integrative mindset with a foundational thesis on Parkinson's Disease. My work was well received by even the leading neurologists in Mumbai who led the Parkinson's Disease and Movement Disorder Foundation. They called it a work equivalent to three post graduate medical theses. 
Later, I joined the unique Medical Research Center of Kasturba Health Society to investigate Ayurvedic interventions and immerse in rich scientific environment to nurture interdisciplinary projects and direct multi-centric trials.  Here I was mentored by the center's director, Dr.Ashok Vaidya, MD, PhD, with a Fellowship in Clinical Pharmacology from Yale and Dr.Rama Vaidya, MD, PhD, an ace physician-scientist with a specialization in Reproductive Endocrinology.
Here, I was given the opportunity to anchor a unique integrative preventative program for cardio-metabolic health where I co-evolved the 'Steps to Swasthya' program with an interdisciplinary team of endocrinologists, cardiologists, physical therapists,
nutritionists and yoga experts. ('Swasthya' means centered well-being)
These were the foundations of my new identity of a Vaidya-Scientist, a futuristic idea of creating a resource pool of highly trained Ayurvedic professionals who can interface with both traditional and contemporary biomedical sciences. I was formally chosen as one of the youngest Vaidya-Scientist fellows in India in 2010, in  a nationwide screen, when the program was announced out of Institute of Ayurveda and Integrative Medicine, Bengaluru, India.
Coming to the United States
Love and life brought me to the United States in 2014 where I was invited to join Kerala Ayurveda Academy as a core faculty and practicing clinician. I learnt the wonderful reasons people came to get Ayurveda education at different stages of life. I learnt how to relate to them, teach them, learn from them and identify the plethora of health opportunities through Ayurveda in a western context.
My first independent clinic, Ayu.Care, was born in April 2018. It has been an incredible opportunity to evolve Integrative Ayurveda and address unmet needs of people who seek more than mainstream medical paradigm.
Ayu.Care is a place where you can come to understand the kaleidoscope of your health through the lens of traditional Ayurveda, modern medicine and yoga-spirituality.  Through the clinic we are making steady inroads in multiple directions for safe and effective integration of Ayurveda for personal health and wider applications. Here, we offer a power packed individual consults with many pre-built resources and tools that maybe suitable for you on a HIPPA-complaint privacy secure platform.
Vision for the Road Ahead
We need to find horizons where we are not defined by or victimized by our diseases.
I personally believe that we need more confidence for taking care of our own health.
We need to find experts who are willing to work with nature and us to allow health to manifest.
We need to be allowed to experience personal health that is not product or expert-dependent.
We need a place that believes in us yet makes us question our beliefs, stimulates us to question and have faith in the same breath.
I dream of a cultural awakening which provides opportunities for people to have an environment for health and healing - be it accesible physical sanctuaries, or policies within our offices,schools and home.
Where our children have the tools and understanding they need and can support care of those around them.
Where they walk with each other and celebrate their unique identities.
This is the true vision of Ayurveda. To enable health so your soul can shine through and live its purpose.
With these aspirations, at I build Ayu.Care, one patient at a time, one team member at a time, one resource at a time, one program at a time.
The work in medicine and Ayurveda and that of health and life with Ayurveda needs a diverse ecosystem, which we can forge together.
That is something I am working toward as a Board member of the California Association of Ayurvedic Medicine (CAAM) where I also Chair the Education Committee. California has the largest number of Ayurvedic Educational programs amongst the US states. I network with fellow students, practitioners, peers and mainstream medical professionals to open up new horizons for health.
With much hope and enthusiasm for what lies ahead, I sincerely aspire for a dramatically different kind of an experience for health than what we are accustomed to.